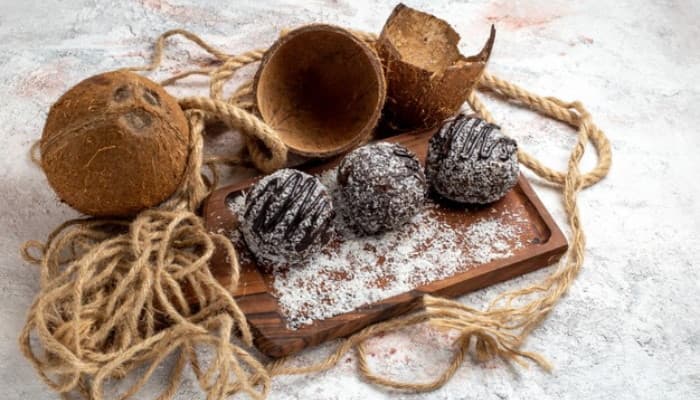 Who doesn't like the bounty?

The coconut-chocolate couple is a great classic beloved by many, young and old.
Here is an idea for a snack easy and natural, ideal for when you want to remove a goodies, give yourself some energy but without guilt.
So let's see what it takes to prepare our fit and protein bounty!
Ingredients
(For about 5 bars)

- 50g basmati rice
- 20g grated coconut (coconut desiccated/coconut dehydrated)
- 40g dark chocolate (I used 99% but it's okay any kind from 80% up)
- Sweetener Max 15 drops (if you want, I do now less)
Fit Protein Bounty Preparation
Cook the rice in unsalted water at least 25 minutes, it must be ' overcooked ' and sticky.
Drain it well and amalgamate it in a bowl with the coconut and (if you like) with some sweetener. Formed of the balls (or bars if you prefer, with these doses will come out about 5) then in the fridge (about an hour).
In the meantime dissolve the chocolate in a bain-Marie, remove the bars from the fridge, dip them in the chocolate so as to cover them in a uniform manner. Allow to rest in the fridge at least an hour.

Macros: 98 kcal 10c (0.3 sugars) 2p 6 F [True Bounty 33c (27 sugars) 2, 5p 14f]

A nice difference no?
Are you interested in a variant more fast and protein?
Try to mix 20g of grated coconut in a jar (150-170g) of white Greek yogurt 0%. Shape the balls and let it rest in the freezer for half an hour.
Dissolve the chocolate in a bain-Marie and, with the help of fork and spoon, immerse the balls and cover them with chocolate evenly.
Leave in the freezer 40 minutes and serve cold. You will be pleasantly surprised!
Curated by
Dott.ssa Patalano Myriam Biologist Nutritionist
Ischia Nutrizione Patalano