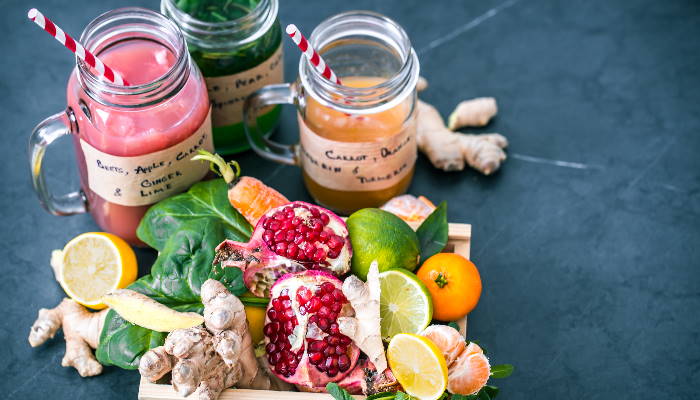 Unlike smoothies (derived from the juice separated from the pulp of the fruit or vegetable), the shakes contain many more fibers, useful to encourage intestinal functions, to help the body expel toxins, to help lower cholesterol and contribute to the sense of satiety.
The base of the shakes is usually made from fresh fruit and raw or cooked vegetables.
You can still expect additions, which include simple fresh water, fruit juices, vegetable milk, coconut water, but also dried or dried fruit or cereals such as oat flakes (previously left to soak), natural sweeteners, vanilla or cinnamon powder.
Just because they are rich in fibers, the shakes are very satisfying.
They are much more than simple drinks and they can represent a light meal.
Depending on the ingredients used, the shakes can have draining functions, slimming or energizing and also used as post workout.
Here are some examples of recipes:
Shake against the abdominal swelling
Put in the mixer 2 ripe pears, 1 banana, 1 cup of vegetable milk of your choice, cinnamon, ice. It's an help for the intestine thanks to the pear while the banana contributes in giving relief to the heartburn.
Digestive Shake
Blend together 500 grams of pineapple with frozen pieces, 1/2 banana, 240 ml vanilla soy milk, 1 teaspoon chia seeds. These ingredients are a tasty way to have an extra dose of the digestive enzyme bromelain present in pineapple and can help reduce body inflammation and further improve digestive functions.
Cellulite Shake with avocado & celery
Put in the mixer an avocado with 4-5 stalks of celery, ice and, in the end, add a squeezed lime.
Draining and Anti-Cellulite Shake
Combine a cucumber (without peel and, if desired, even seeds) with half a grapefruit, and add a few mint leaves for a more refreshing effect.
Nutritious and vitamin Shake
Blend the pulp of a coconut, some almonds (taking care to soak them a couple of hours) and add coconut milk.
This is a very nutritious milkshake, rich in vitamins and mineral salts, essential during a slimming diet.
Anti-Oxidant Shake
Put in the mixer a banana, a cup of iced green tea and some leaf of spinach (optional).
Mix Shake
Blend a carrot, some spinach leaves, a banana, orange juice and a few teaspoons of coconut oil.
Shake for the intestine
Blend half papaya, add two tablespoons of flaxseed and a glass of water or vegetable milk. The digestive smoothie based on papaya and flaxseed is suitable for those who have problems of slow digestion, gastritis, colitis and even constipation. Papaya contains digestive and anti-inflammatory enzymes, as well as a good amount of fiber, antioxidants and other important nutrients. On the other hand, flax seeds contain fiber, antioxidants and fatty acids that contribute to improving the health of the body in general.
Low glycemic index shake
Join 1 banana, 1 glass of partially skimmed milk or vegetable milk, 3 tablespoons of oats and cinnamon. The banana has an excellent combination of minerals and vitamins that make it an indispensable food in any diet, even those for diabetic people and for those who want to lose weight. This is the perfect complement for sportsmen. Oats help to reduce glycemic peak.
Shake for concentration and sense of fatigue
Ingredients: A cup of blueberries (better if fresh), a small banana and 1 teaspoon of flaxseed oil. Shake everything and drink now.
Shake to clean the Arteries
Unite and blend together 2 glasses of raspberries (fresh or even frozen for a larger texture), 1 glass of pomegranate juice, 1 glass of water or ice.
Energetic Shake
It's indicated for those who love to run , rich in vitamins and proteins to your body. Blend 1/2 glass of soy milk, 1 banana, 2 tablespoons of coconut flour, 1 egg white (optional), 2 ice cubes, 1 teaspoon of honey, 10 grams of protein powder (optional, for those who use it).
Energetic Shake
It's indicated for those who train regularly and prepare for the costume test. 1/2 glass of vegetable milk of choice or coconut water, 1/2 jar of Greek yogurt, 1 banana, 1/2 apple, ice to taste, 1/2 tablespoon of cane sugar or stevia or cinnamon (if your palate prefers it), 10 grams of protein powder (optional, for those who already use it).
Energetic Shake
It's a good pre-or post workout for those who train. 1 glass of coconut milk (or another vegetable milk), 1 Banana, 1 teaspoon (about 5-7d) of bitter cocoa, 2 egg whites, 1 coffee and, for those who usually use them, a scoop of protein powder.
Energetic Shake
It's for the greedy! 10 grams of protein powder (optional), 1 banana, 5 strawberries, 10 almonds, soy milk (or oats, coconut..), 5g cocoa powder or chocolate flakes dark.
Curated by
Dott.ssa Patalano Myriam Biologist Nutritionist
Ischia Nutrizione Patalano