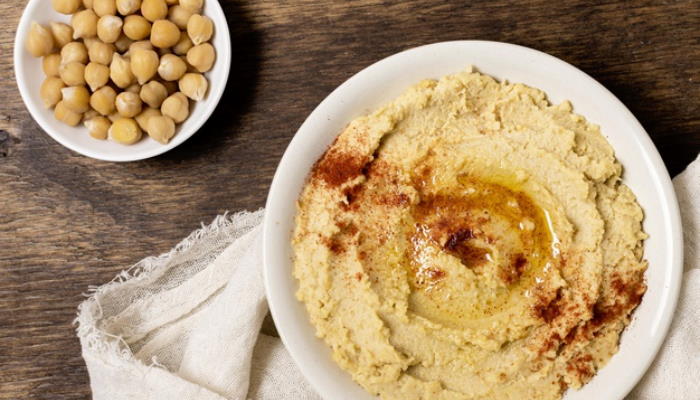 The Chickpeas Hummus is a typical medium-eastern recipe, known and reproduced throughout the world thanks to its genuine taste and simplicity of both ingredients and preparation. An exquisite cream with a taste not too particular: it is delicate but aromatic thanks also to the presence (optional) of the sauce tahini made from sesame seeds and lemon juice.
It is a very versatile dish that is spreading increasingly even in Western culture: it can be consumed as an appetizer, smeared on croutons or accompanied with bread; It can be served as Pinzimonio for a cut of fresh seasonal vegetables and so on.
Just prepare it once to make it become a new "fixed" food.
Ingredients
(For 2 servings)

- 300g of cooked chickpeas (125g of dried chickpeas)
- 3 teaspoons of tahini
sauce - ½ clove of garlic
- ½ cup hot water (even the cooking of chickpeas)
- Juice of 1 lemon
- 2 tablespoons of extra virgin olive oil
- Salt to taste
- Parsley (optional)
Chickpeas Hummus Preparation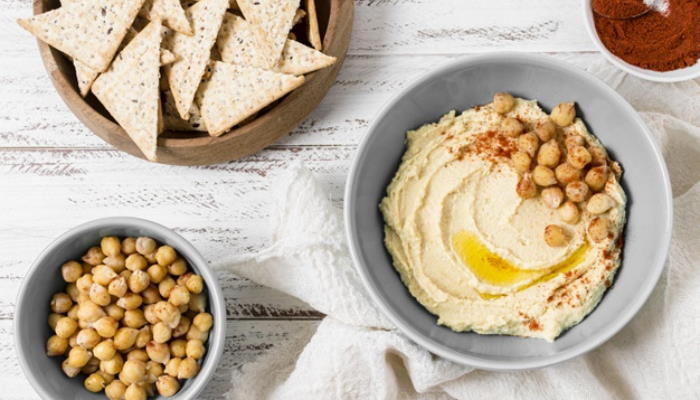 To have a great hummus the best thing is to use the dried chickpeas and put them in soak the day before, cook them quietly on low heat for the time necessary to have them soft and finally pass them under the cold water to detach all the cuticle of the chickpeas and then them. If you do not have a way, you can use a pack of good pre-cooked chickpeas (those in glass jar are preferable).
After cooking, simply blend the chickpeas with the hot water (added as long as you get the desired consistency) and gradually add all the other ingredients.
Once served, sprinkle the hummus with a sprinkling of chopped parsley or, alternatively, with chili pepper/paprika/mix of oriental spices/pine nuts/walnuts.

Nutritional values: 198 kcal (18C 11P 14F)
This is the recipe of the traditional hummus But there are many variants that can be prepared: Just add more ingredients that allow more assimilation of the present nutritional stops, which make the dish Colorful, more "nice" to see and, why not, tastier!
Curated by
Dott.ssa Patalano Myriam Biologist Nutritionist
Ischia Nutrizione Patalano