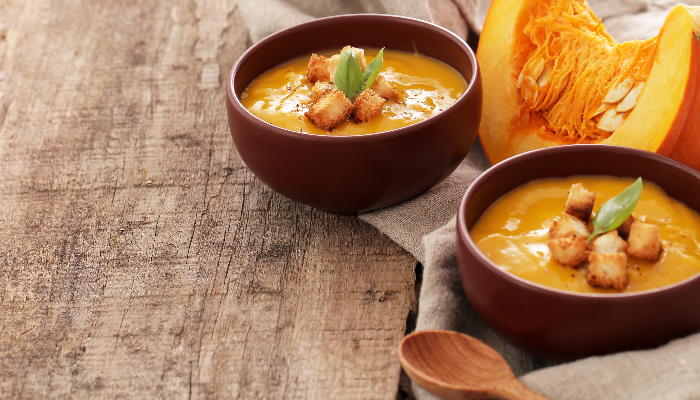 Cibo foto creata da Racool_studio - it.freepik.com
Who does not love the pumpkin?! Very versatile in the kitchen, both for sweet and savoury dishes and you can not avoid creating a version of hummus that presents this fantastic vegetable!
The sweet taste of the pumpkin blends perfectly with the aromatic notes of the tahini sauce and, its velvety texture, makes it perfect to spread (but also to eat with the spoon!)
The hummus with pumpkin is a tasty but also healthy dish: the pumpkin is a source of fiber, several minerals (in particular calcium, zinc, potassium, selenium, magnesium) and vitamins, in particular the carotene (important Precursor of vitamin A) known for the exceptional antioxidant, vitamin C and vitamins of the group B (B1, B2, B3, B5 and B6).
The pumpkin is also excellent in case of constipation and in the prevention of cardiovascular diseases (it helps to reduce cholesterol levels and to lower blood pressure).
The ingredients and doses used are the same used for the traditional hummus ( see recipe), Except for the lemon (which in this case we leave) in addition you have to consider 300g of pumpkin for 260-300g of boiled chickpeas. The pumpkin should be cooked in a frying pan with two fingers of water or, for a less "aqueous" texture, you can leave to dehydrate in the oven.
Alternatively, you can prepare a pumpkin-only hummus (same doses and ingredients, only chickpeas are excluded) for a more delicate aperitif.

Ingredients
(for 2 servings)


- 300g of cooked chickpeas (125g of dried chickpeas)
- 300g Pumpkin
- 3 teaspoons of tahini sauce
- ½ clove of garlic
- ½ cup hot water (even the cooking of chickpeas)
- Juice of 1 lemon
- 2 tablespoons of extra virgin olive oil
- Salt to taste
- Parsley (optional)
Preparation Pumpkin Hummus
To have a great hummus the best thing is to use the dried chickpeas and put them in soak the day before, cook them quietly on low heat for the time necessary to have them soft and finally pass them under the cold water to detach all the cuticle of the chickpeas and then them. If you do not have a way, you can use a pack of good pre-cooked chickpeas (those in glass jar are preferable).
After cooking, simply blend the chickpeas with a little hot water and gradually add all the other ingredients. The rest of the water should be added as far as the desired consistency is achieved.
Once served, sprinkle the hummus with a sprinkling of chopped parsley or, alternatively, with chili pepper/paprika/mix of oriental spices/pine nuts/walnuts.

Average nutritional values: 240 kcal (fibers: 6g, Cholesterol: 0, Potassium: 225 mg, calcium: 100 mg)
Curated by
Dott.ssa Patalano Myriam Biologist Nutritionist
Ischia Nutrizione Patalano